Ottawa Pot Light Installation
serving the Ottawa area for over 30 years!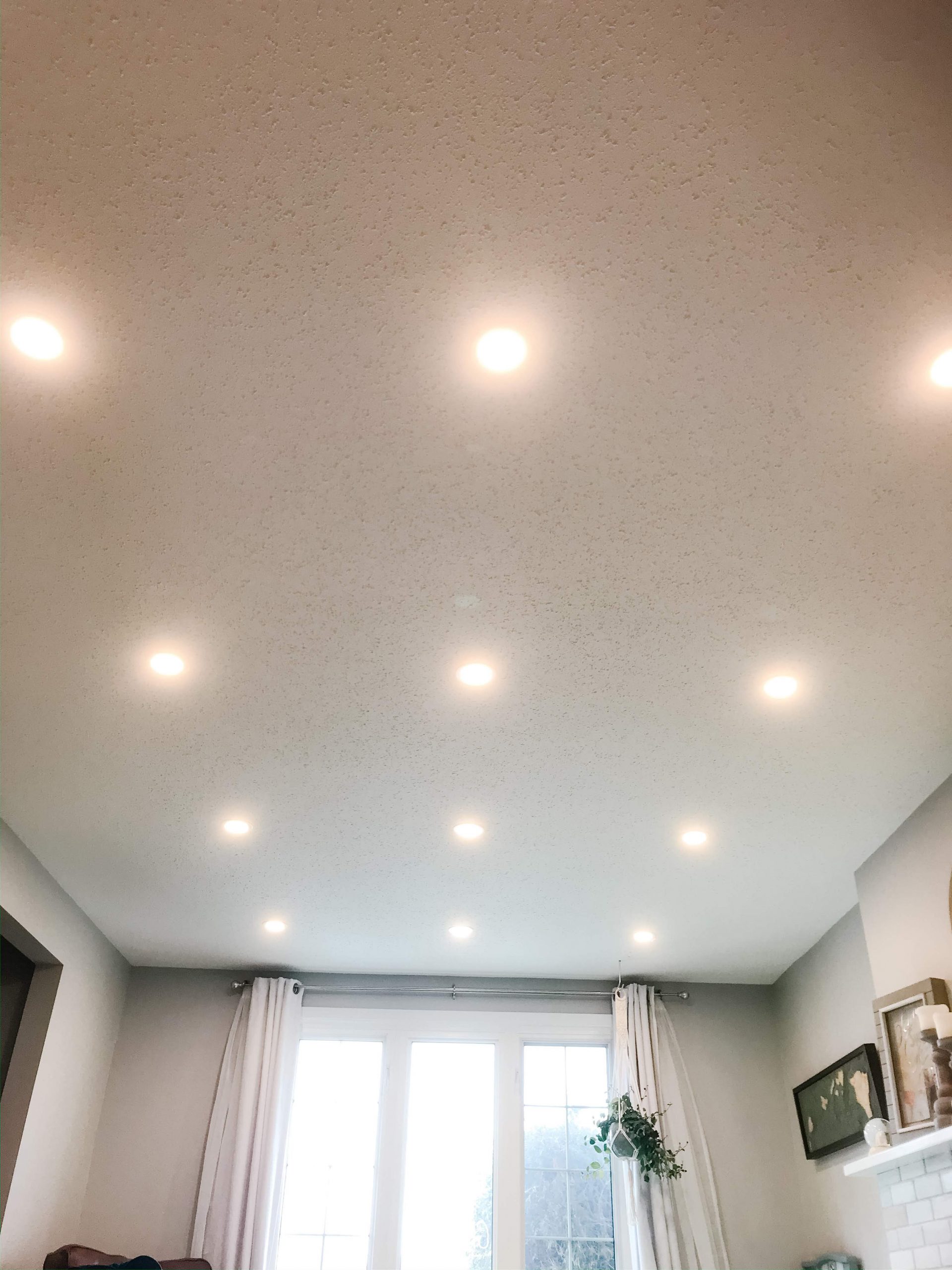 Installing pot lights in your home or office in Ottawa requires a well-thought-out plan, the right tools, and years of training to achieve the perfect finished result. Recessed lighting gives rooms a striking new look and feel. They work great with other light sources such as table lamps and candles when you need that extra bit of character. While it's possible for an amateur handyman to complete a lighting install project on their own, professionals are usually able to complete the job at a very affordable rate, and we would always recommend getting a free no obligation quote before you begin.
Common Issues Encountered During Ceiling Light Installations
With any home renovation project, you should expect the unexpected. This is especially true for electrical projects in older buildings. As a professional electrical contractor in Ottawa, we have seen everything. If your ceiling has insulation in it, placing the recessed lighting housing in contact with it may create a fire hazard. Check for warnings and tips on the pot light installation kit's package to determine how much space, if any, is required around the fixture. The ceiling material may present issues during installation, and special tips may be required to cut the holes without causing excessive damage. Any time new lights are wired in, special consideration has to be given to how much electrical load the circuits can handle. Overloading circuits doesn't simply present a mild inconvenience where you need to flip the breaker. It can create a very real safety issue, especially in older homes.
Choosing Your Pot Lights
There are many different types and styles of pot lights. Low profile LED's have become a standard in most modern homes. Gimble pots can add a focused look to accent certain aspects of a home. They can be aimed in many directions. High profile recessed lighting can be more expensive but really look appealing on the ceiling line. Dim to warm pot lights have emerged as a nice feature to resemble the dimming of an incandecent bulb. You can check out many options by visiting Liteline's website.
Safety First For Home Renovations

Before you begin any lighting installation project. You need to set any light switches to the off position. Cut the power to the room at the breaker. Test the wires with a voltage tester to be sure electricity is no longer flowing. If you have any concerns at this point, or you are unsure if the electricity is fully cut off, you should immediately stop and contact an experienced electrician for assistance. Depending on where you live, you may also require a permit and inspection to do the work. Professionally installed lighting can pay for itself if you plan on renting or selling your home or office, while a poorly completed install could cause a deal to fall through.
You will likely need to use a ladder to access the ceiling, and so for both safety purposes and convenience, you should have someone available at all times to assist you. Nobody wants to put down their tools and climb down from the ladder because they forgot to grab a screw from the recessed lighting installation kit. Installing pot lights requires cutting into the existing ceiling, and this creates potentially toxic dust. Protect yourself by wearing a dust mask, safety goggles and gloves at all times.
Required Tools To Install Pot Lighting
The tools required for installation primarily depend on the location within your home or office. Whether the location is already finished or not. An experienced handy person should have most of the tools in their garage. There may be a few you need to rent or borrow to complete your install. As with most installation jobs, expect there to be tools or supplies which you need to pick up at the last minute from your local hardware store. Remember: Installing lighting can be very dangerous if the proper precautions are not taken, and the right tools used.
To discuss the details of your pot light installation project in Ottawa, Ontario with a licensed master electrician, call 613-225-3249 or fill in our contact form and we will reach out to you as soon as possible.
Location
Mike Fuller Electric Ltd.
1692 Ortona Avenue
Ottawa ON
K2C1W7
Working hours
Monday-Friday: 7AM-4PM
By appointment on Saturday and Sundays